Charters
---
ECU Transit offers charter services to provide convenient, prearranged, dedicated bus service for University affiliated groups and organizations at minimal cost. We can provide chartered transportation on-campus, around town and out-of-town. Approval for chartering organizations is at the discretion of ECU Transit and based upon the availability of vehicles and personnel.
All Transit Bus, Sprinter; Motorcoach estimates will include extra fees, which covers preparation and cleanup time.
---
---
Transit Bus
Local special events
within 50 mile
radius
---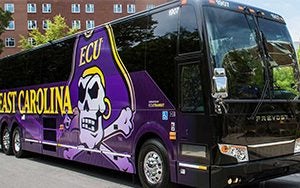 ---
Motorcoach
Local, regional, out of state, single or multiple day trips
(56 passenger)
---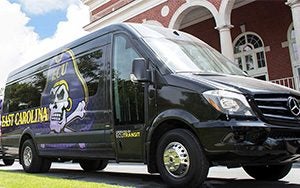 ---
Sprinter
Local, regional, out of state, single or multiple day trips
(14 Passenger)
---
Requests must be made at least 30 days prior to the event date by submitting an online request . A signed quote and acceptance must be returned within two weeks of trip to "hold" the vehicles and reserve the charter. Any organization not chartering at least two weeks in advance is subjected to a $100 expedited processing fee.
To ensure the best quality service, be prepared to provide the following information in your request:
Date and time of event
Billing address
Contact name, phone number, and e-mail address
Anticipated number of passengers
Number of buses requested
Pick up and drop off locations
Payment method/FOAP
Please contact us as early as possible to reserve a bus for your event! For more information, please contact our office at 252-328-4724.