Advertising
---
Who rides ECU Transit?
Well, everybody! Doctors, lawyers, politicians, teachers, scientists… they're all here, they're just still students. As an institution of higher education, thousands of future professionals and community leaders gather together on campus every day. What better way to get there than ECU's own transit system?
Interior Bus Advertising
What's over 1,400 feet long, has over 180 wheels and rides around town while making you look great every day? No guessing required, the answer is easy: the ECU Transit bus fleet featuring your advertising! Each bus is equipped with overhead advertising tracks capable of carrying your message in a variety of sizes up to 11″ high by 56″ long. With around a million miles on the road every year, that's a lot of message!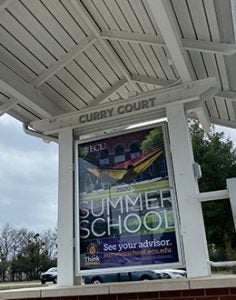 Bus Shelter Advertising
With bus shelters at many of our popular campus stops, your shelter ad is surely to get the attention that you are looking for! At 60.5 inches x 45.625 inches, your ad will be large and sure to be seen day in and day out by those waiting for the bus and those just walking by. Some of our popular locations include College Hill (East or West), Upper and Lower Minges, Speight, Rivers, West End, and Curry Court.
Getting Started
If you're ready to advertise, getting started is as simple as filling out our request form. Before doing so, be sure to review the rates and specifications available for download below. It has everything you need to know to start putting your message out there for thousands of young adults to see every day.